2021 Tennis Journey Recap
2021 is a challenging year for me.  I am quite satisfied with the progress I have made with my tennis journey.  I believe I became a better tennis player overall with the technology I have been using.
If you have arrived here, I hope you are a tennis fan (not just a speculator) like me, who is curious to learn to adopt modern technology to improve and enjoy the game. Here are the three things I am aiming to help you achieve :
Get a better understanding of how to get the most value out of SwingVision
Learn some new tricks and avoid the pitfall I experienced
Be inspired to improve your own tennis
2021 my tennis journey with numbers
– How many tennis games do I play in total?   94.   That equates to 1.8 times per week.  This is significantly higher than 2020.  COVID remains a challenge but I have learned to adapt to uncontrollable situations.  
– Year-end ranking:  top 16 (3rd rd in Credit Valley), #3 in Milton, #15 in Bronte.  That is also a steady improvement over 2020 when I lost in the 1st round of the year-end tournament due to ankle injury and had to subsequently withdraw from credit valley's tournament. 
– The longest game I played (3hr – semi-final ladder match at Milton). The video was cut off at the 2hour mark due to the battery running out, but my watch was able to capture the total score. We played 188 points and split the score by 94:94
The three most interesting games this year
Game 1:  Lightning match with Suriyan –  It is the year-end tournament final at Milton. I was playing in front of a crowd of over 20 people, most of them were cheering for my opponents. I lost the game 0:6/2:6 – which is a bit surprising but gives credit to my opponents who played almost flawlessly.  We are playing with the thunder and lightning surrounding us, and it was eventually paused midway in the 2nd set. 
Game 2:  Frozen tennis at a nearby park.  Previously the lowest temperature I have played is 4 degrees almost 10 years ago.  This time I was forced to play outdoor because all the indoor courts were closed due to 2nd wave of COVID restriction. I ended up playing almost once a week in January 2021.  Now I know my true limit was -5 degrees with below 20km/h windchill. 
Game 3: Night game Round 2 at Credit valley.  My opponent is likely at least 20 years older than me – that means I still have many years to play singles competitively.
What is my improvement?
Backhand. It used to be my weakness for over 10 years until 2015 or 2016. My coach Fio Marin at the time helped me to fix my form and mechanics, but it is really this year I feel things are starting to come together.  The numbers don't lie – my backhand is faster (The avg speed of my backhand is 4% faster than my forehand), and also consistent ( unforced error rate is 2 pt points lower than my forehand).
The second improvement I made is my net aggressiveness. When playing with an opponent similar to my style, I am now able to produce more winners and get points consistently from the net. The challenge is to translate this net aggressiveness into the matches (ladder or tournament) when the tension level is much higher. 
What needs more improvement?
I hope to reach 5.0 level by age 40.  To reach that goal, I will need to cut my weight to below 85kg.  That will help my conditioning, as well as my movement on the court. 
Next in line would be my serve.  This year my average serve speed remains at 100km/h per SwingVision, and that produced a 57% first serve won and 47% second serve won.   This isn't good enough to advance into the next level.
My takeaways using SwingVision to tape the games
Storage space
After buying my iPhone 12 256G last November, I find myself no longer needing to worry about the storage space on my Phone. That was my biggest pain point last year with an iPhone XS 64GB. One year later after roughly 1.5 hours every week of recording, the app took 120GB of my 256GB (48%) phone storage. I would consider it acceptable. In short, 256GB would be my recommended phone variant for the best value. Personally, I might opt-in for a 512GB one next year.
Phone grip
I use the fence grip during summer outdoor tennis and a tripod when playing at the indoor bubble. Both devices are recommended by the official website. The fence grip broke with 6 months of usage (see below).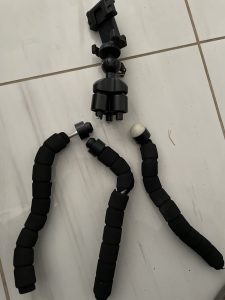 I was a bit disappointed but not totally surprised. At the end of the day, it is only a CAD 25 option, and it wasn't designed to twist many times clinging to the fence anyway.
My tripod sustained a few falls during high wind, mishit by the balls and I even stepped on it once (It was somewhat a dangerous experience). However, it is still working fine and I would expect it will last another winter.
Battery consumption
I used to be able to finish a 1h10m ladder match with 50% remaining battery, however, it was no longer the case after upgrading my iPhone 12 to iOS 15. My taping was cut off on two of my tournament matches this fall, both are playing at best of 3 sets format. I charged my phone to close to 90%, and they were both cut off close to the 2-hour mark.
One thing I really appreciate is the app would save the video on the phone when the battery is running below 5%, and let my watch to continue record match stats. I would recommend turning on the "power save" mode (I tried once and it doesn't seem to negatively impact app performance) and also starting to record the game after the warm-up is over.  
Starting from this holiday, I use this Anker battery pack  to magnetically attach to my iPhone when recording.  It has been doing well after 3 trials.  My phone was able to sustain a 2-hour match using only 10% of the battery(from 80%-70%).  All three matches are played indoors with no winds. I am curious to know how it will work outdoor in a windy environment. 
Video capturing
One of the big changes rolled out this year was the 60fps footage. This one aligned with my previous analysis that the higher frame per second has made a step-change in terms of experience for the viewer.
On the flip side, if you choose the 1080p60fps option, the after-match video uploading was a long process. It typically would take at least 1h for me to finish uploading the game video to its server. Only by that time, you can tag your friends on the app (if they are also SwingVision users) so they can access the video from their Apple devices. If I am trying to export the video, usually it takes about 30min for a 20min post-processed 8 game pro-set game.
One thing to notice is – YOU DON"T need to wait for the upload to the server to complete to export the video to your iPhone.  This could save you a few hours if you need to edit or share the video right after the match is completed.
Video consumption
I have to admit I only watch my games from time to time. It just felt a lot less incentivized to watch, than to actually tape it. Of course, one barrier is you will need to wait until the video is uploaded to the server, then you can watch it on other bigger screen devices like an iPad or a Mac.  
If I have more time, I would love to do some manual editing, for example adding a voice-over on certain points or even an introduction.  Unfortunately, exporting feature in Mac is still half-baked (after one year! )because you still can't export the shot location and score overlay. I can understand it might be caused by apple's API limitation.  I can also understand there might very little incentive for SwingVision to easily send the users away from the app with an exported video, instead of keeping them engaging within the app.  
The Mac app also throws some errors like the below from time to time.  It usually gets resolved by closing and opening the app.  I never saw this issue from iPhone or iPad. This might show the Mac app might get little attention/usage.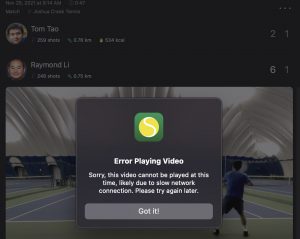 Tennis analysis: I found myself still using the stats more often than the video. The obvious reason is it is much simpler to get a fact figure (e.g.what is my first serve percentage today) than to load up the video and select the exact points.
At the end of the day, I still have a day job and a whole lots more family responsibilities. Having a snapshot of the game is good enough most of the time. In that sense, I hope the app can sum up the stats a bit more easily, for example, what is my winning%, first serve % for a particular month. And trending on my performance on a specific metric (eg – backhand winner/unforced error %) so I know if I am still on track. I guess I should be able to do it myself with the exported excel file anyway