I bought the Apple Watch Ultra 2.
To be exact, I have decided to keep the ultra 2 after 14 days of the "free trial" period is over.
It was almost a slam dunk or no-brainer. There were primarily two hurdles I was concerned about. The weight(size), and the price.
Weight concerns on Ultra 2
The Apple Watch Ultra 2 weighs 2x (108%) as heavy as my previous watch (SE, Series 4).  Considering that I wear my watch almost everywhere (ski, swim, tennis, bike, everyday life, and sleep), weight is critical to my comfort.  Unfortunately, that wasn't an option and there was no Apple Watch Ultra Lite coming out this year.   I was debating between getting the Ultra 2 or Series 9 (41mm version) mainly due to concerns on weight.  After seeing them in person, I believe spending the extra money on an LTE version of Series 9 isn't a big of an upgrade. It looks very similar and still has a tiny screen, and the battery wasn't improved either.
After using it heavily for ~4 weeks on various use cases, I have concluded I have definitely underestimated my body's adaptability.  I have gotten used to the weight within a week.  This reminded me of the smartphone screen size upgrade over the past 15 years.  My first full touch screen cellphone was a Nokia X6 (3.5 inch, weight 122g) , and now a 6.1 inch iPhone weighing over 200g) doesn't look too heavy on my hand.
So – if you are worrying about the weight and size like I did a month ago, it is unlikely to be a concern for you as well.   Christopher Lawley also agrees with me in this video.
Expensive Price Tag for Ultra
The Apple Watch Ultra 2 is expensive. The price tag of $799 USD and $1099 CAD is the same as the iPhone 15.   To be honest, I was thinking about getting two Series 9 Wi-Fi so my wife and I can both use the newest technology.   That was just a thought – I know it is not going to work.  I tried that 6 years ago, but I have come to the conclusion that not everyone (or the vast majority of the people in the world) is as enthusiastic as me to track things like I do.
I have budgeted for it (not this much)at the beginning of the year, so I don't feel too guilty about spending it for myself. Also, I am planning to use it for 3-5 years (mark my words – my previous SE lasted 3 years ).
Money can't really buy happiness.  However, in this case, this new watch does bring a tiny bit of happiness to me.
Happiness
So – what is the positive impact it has brought to my life with this new Apple Watch Ultra 2?
Ultra's Battery life doubled and charging time was cut in half
It is now lasting two full days for my usage, usually with a 10% – 90% charge.   There are a handful of moments for me in the past when I forgot to charge my watch so I can't record my tennis or ski trip or swim laps.   I don't think it will happen to me in the future.
The fast charging capabilities weren't really as advertised.  I was expecting 30m of fast charging to 80%. In my test, 20 minutes of "urgent" charging in the car gave me about 20% additional juice (from 30% SoC to 50%).
However, I do notice Apple changed their spec as of Nov 2023.   Based on the new spec – it will charge from 0-80% in 1 hour for Ultra 2.    That is decent and definitely an upgrade from my SE.
As a result, I would say the "range anxiety" for my watch has significantly decreased.  Usually, I just need to put the watch on the charger when I am taking a shower.
Apple Watch Ultra's bigger screen makes everything more relaxing for my eyes
Apple Watch Ultra (2) 's 49mm screen size, coupled with its 2-inch screen is the biggest upgrade in user experience for me.  Now I am much more likely to reply the instant messages on my watch, especially at home when I don't want to carry my phone with me all the time.  Tracking different sports activities on this watch was also more enjoyable.
Use the Apple Watch Ultra 2 to track Tennis
The improvement is more noticeable outdoors when tracking my tennis using SwingVision for score-tracking.  Even though the UI is exactly the same (compared to SE), the increased font made my eyes a lot more relaxed.  Most notably, the "hawk eye" challenge feature (shown in the below video)
became a lot more powerful with smoother replay (likely due to the new S9 processor). A bigger and brighter screen makes it showing it to my opponent a lot easier.
I wear it on my dominant hand (right) because that was what I got used to when I started 5 years ago. The added 30 grams was noticeable. Think about the impact of adding 30g on the racquet, which is almost 10% of the normal tennis racquet.  Personally, I got used to it about 2-3 times and haven't noticed it impact my tennis performance negatively.
Lastly, I noticed surprisingly that it no longer breaks the video recording when I pick up a call in the match.  I wasn't sure if it was caused by a software feature upgrade on SwingVision's end, or a hardware upgrade on the Ultra (the S9 chip can handle a call & recording the video).
Use the Apple Watch Ultra 2 to track Swim
I didn't swim as much as I'd hoped to over the last 30 days since I got the watch.  During the limited sample size,I find the always-on display, and the bigger screen are both making a difference in checking my real-time stats under the water.
I didn't choose the "Ocean" band (the one on the right in the following photo), which was designed for underwater usage.  I chose "Trail loop" instead due to its everyday comfort, after trying all three on in the retail store. (Also lesson learned here, you can only try them on in Apple retail stores, not Bestbuy/Costco those channel partners) .  It is still "okay" wearing the trail loop band underwater, but it does take additional time (about 30-60 minutes)to dry up after the workout is over.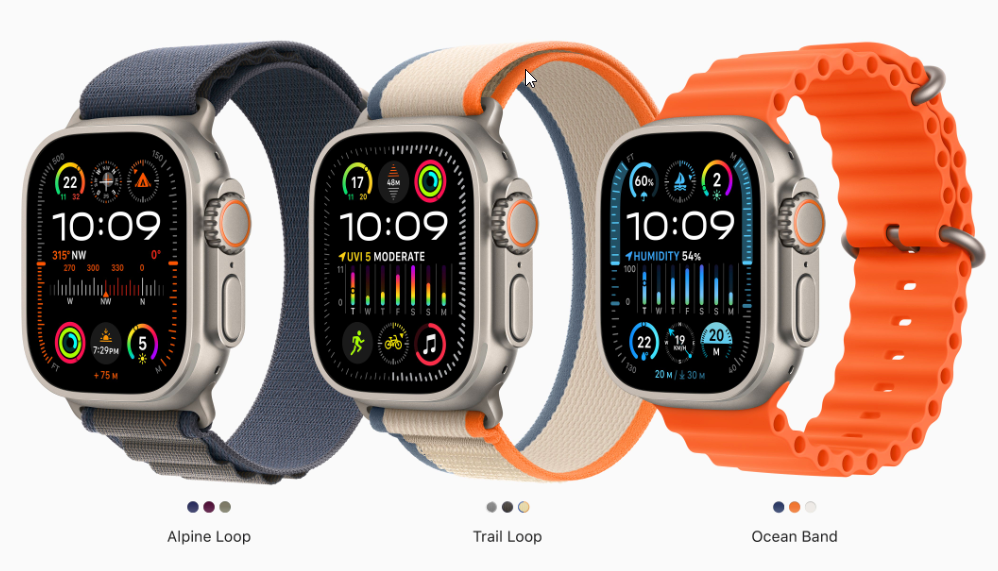 Use the Apple Watch Ultra 2 to track Ski
I am excited to post an update in 3 months here.
Right now what is written on the manual, is expected to perform better in cold conditions (up to -20 degrees Celsius).
I didn't find my previous SE had many issues last year, even when I was wearing in -20 degree outdoor skiing.  I guess it was covered in the cloth and my body warmed it up so it wasn't really that cold for the watch.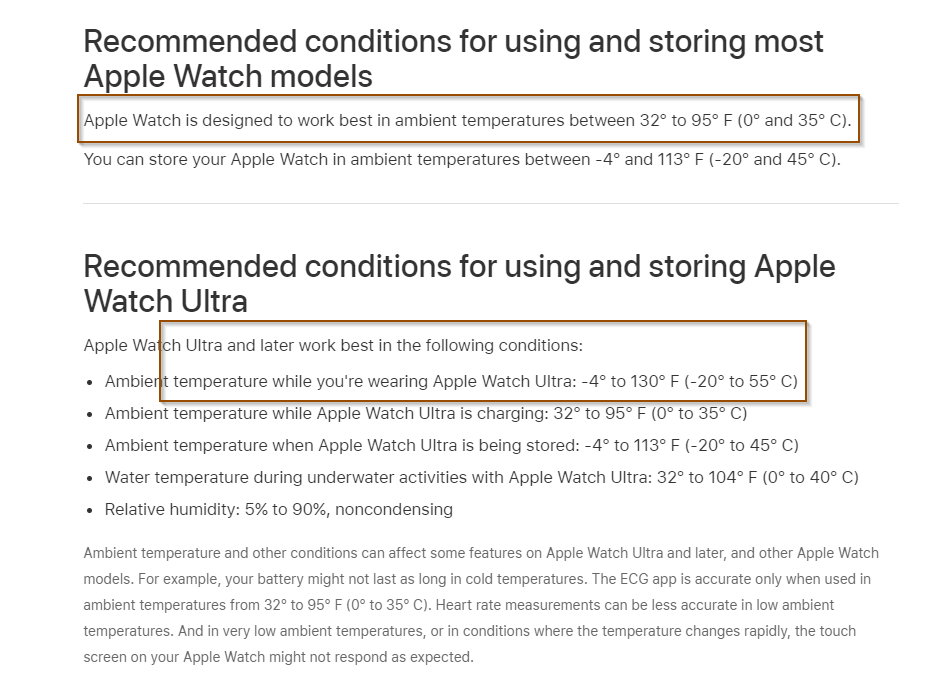 Offline Siri and improved dictation
Typing on a watch is awkward, even with a bigger screen Ultra 2.  I am glad that Apple seems to make the dictation and Siri a lot better on this new watch.  Not sure if they match the capabilities on Amazon Alexa/Google Home yet. I found the responses on my commands like " setup a reminder", or reply to a message using dictation are significantly faster.  Based on this article , Apple is indeed processing these commands without an internet connection.
The yet-to-be-explored features – action button, gesture, elevation, and 3000 nits brightness
The first month with the new Apple watch was overwhelmingly positive.  It does everything my previous SE was able to do better, and the incremental cost of weight & size wasn't much of a concern.   I am curious to try out the following advertising features and would love to update this post when I get the chance.
Action button:   The added orange button was a big innovation last year from the Ultra 1, and it has made it to this year's iPhone 15 pro lineup this year.   I am still yet to explore the benefits of it.
Gesture:   This is also new, and likely the primary differentiation between the Ultra 1 and Ultra 2 (because only the new chip with S9 has it).   It would be so cool to open a truck using gestures like this video
Elevation & 3000nits brightness – We are not in the ski snow season yet.  Really looking forward to it in the winter.
The surprise – Celluar Network
Moving the cellular network from my old SE to this new watch was a big surprise to me, in a negative way. I ended up canceling my plan and opting NOT to use a cellular network for now.
Why?  I would say my mobile carrier laid an egg on this.  Maybe there are not many users like me who are upgrading watches.  The user experience was horrible. I ended up having to make two customer service calls, and neither of them was helpful in resolving my issue.
First, it didn't even allow me to move my plan from the old device to the new one.  I have to "cancel" my previous plan, and then "activate" the new plan and pay an extra $45 activation fee.  (WTF???).   It is not I don't want to pay for it, it just doesn't make any sense.  They will never charge a fee if I am using a new phone, and there is no service being rendered for this "activation".
Secondly, I was told to pay $5 extra every month because I lost my original plan.  That also doesn't sit with me since I don't feel I get any additional service in return.
The last straw was learning that the family setup isn't actually available on my current carrier.   It was something I was planning to do for my family member who won't have a phone. It will enable the watch to be "independent" from the phone so it will have a completely different phone number.   In Canada, only 2 mobile carriers (Telus, and Bell) can support this.
After having it without a network (so my watch piggybacks my phone's network + wifi), I realized I don't really need it.   It was a mental soothing for me over the past three years when I had it with my previous SE. I still remember those two or three times, usually in quite embarrassing situations where I couldn't use my phone to take calls. But it does not justify the cost.  Maybe I will switch a carrier in the future, because of the watch.