My experience of becoming a certified web analyst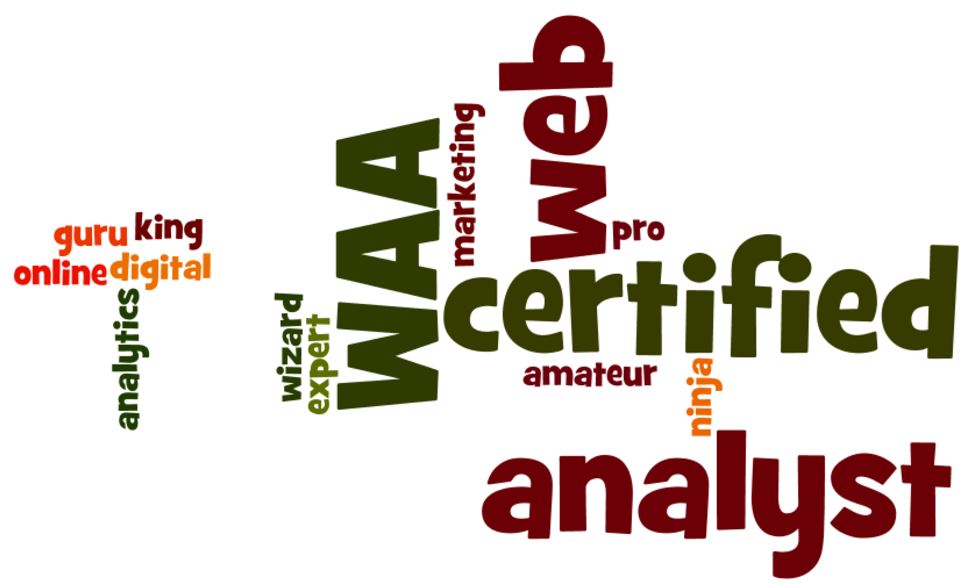 I have finally earned my certification practicing digital analytics from digital analytics association  this week.  I was so pumped and barely had any sleep the night after I got it.
In this post, I will share what is this certification and different options, why getting certified in digital analytics is important to me, and how I pass the exam test (without violating the confidentiality agreement.)
What is a Certified Web Analyst
Based on my own research, there are two options to get certified in this area from an independent not-for-profit organization(There are actually a lot more organizations offering certification, but my personal preference is "independent'. )
Option 1: The DAA WEB ANALYST CERTIFICATION PROGRAM™ offered by DAA(digital analytics association). This program is dedicated to "analyst" with a focus on website optimization. The association backing it up is a community that serves the needs primarily for the digital analyst.
Option 2: The Online Marketing Certified Professional offered by OCMP. This program is a general digital marketing certification with an option to focus on web analytics. I was introduced to this association mostly from Avinash Kaushik. Different from DAA, OCMP is serving "digital marketing professionals" and "analytics" is one discipline.
As you might know, I have chosen option 1 as it fits more my current development need – I consider myself as an "analyst" first and will be in a foreseeable future. At the same time, I am aware that "digital analyst" is a very niche segment of the market, while "digital marketing" represents a much much bigger pie. A digital analyst who doesn't understand SEO/PPC/Social Media/Display Advertising/Content Marketing will lose context and likely ends up a low-value adding "report monkey".
Why does this matter
In the blog post why reading still matters, I wrote about my journey of transforming to be a digital analyst in 2016.  The journey didn't end in 2016, as I kept looking for pushing my own boundary in 2017.
An industry-recognized certification became a natural next step:  My job requires me to interpret and report lots of business sensitive number,  and the certification could help me earn more credibility from peers inside the company (most of them are "internal customer"), and outside vendors and agency partners.
More importantly, I was looking for a career milestone that I can have more control of. By reading Ryan Holiday's Ego is the enemy, I have learned that a preferred way to deal with the ego and frustration, is to focus on the outcome you have played a bigger part than other external factors. A certification is a good example – even I failed it I would blame myself (for being not good enough) instead of blaming the external factors (I can't control).  On the flip side, getting it could be a recognition that demonstrates achievements(for being 1 out of 200+ certified web analyst in the world), ultimately boosts confidence and keeps the spirit high.
Also, getting support from your own leadership is crucial – both financially and mentally.  It is NOT a free certification like Google Analytics IQ test that requires no barrier of entry.
How I pass the certification test
The Certified Web Analyst certification test is not easy. In reality, I took me almost 8 month to commit,mostly because I was concerned on not able to pass the exam.  From my own research, only 7% of the DAA members are certified.  Also, another certified member who I consider a thought leader in the industry told me she barely passed it, even with over 5 years of experience under the belt.
Once I committed after a long consideration period, the first thing I prepared was a "contingency plan". My plan was simple – if I didn't pass I will pay for the re-testing fee(about $200) personally. I felt this "financial hit" manageable.
From my previous experience, I know I usually didn't perform well in a highly stressful "exam environment".   For me, "over-preparation" is needed in order to make it up. This means taking out 20 hours of total time from my own schedule in a 2-week period, mostly personal time.
My list of prep materials ranked by importance
I don't think everyone can have the chance to attend the official training (#2). In this case, the two books listed (#3 and #4) can serve as complements.
The exam itself is really a test for "real life experience" instead of just memorizing the knowledge points. Diana Huang has shared this in the blog, and I echo this 100%. My estimation of a breakdown of a passing score should come from:
50% real-life work experience in digital analytics: most of the questions are experienced based and I don't even think they are "searchable"
25% preparation on structured knowledge, mostly in the field that you didn't touch on in the daily job. (It is web site optimization for my case)
25% luck.  I had some luck with getting the right amount. Usually, I got it when I am well prepared and mentally ready for the result, favourable or not.
Wrap up
Getting certified is the first step. At the end of the day, this is not a "Charted Accountant" designation that has a high awareness and could directly open new opportunities. A combined the following two is recommended.
Go deep in "Analytics" – Data science.  Starting with Python in data acquisition, we can use the latest analytics technology (R, Python) to improve efficiency in data wrangling, leveraging open sourced API in the machine learning world to build models, and most importantly creating stunning visualization to enpower data storytelling.
Go wide in "digital" –  Creating a testing plan and executing it along with other digital team, usually web development team, is proven to be the best way of realizing the value from analytics. Media buying skills like AdWords and social media advertising, combined with technology field like SEO and JavaScript are both benefitial for analytics professional to make a broader impact on the digital journey.