2017 Year-end review: books I read
Similar to the end of last year, I'd like to conclude my year of blogging with a post on books.  During this year, my interest and commitment to reading are growing steadily.  The number is backing me up …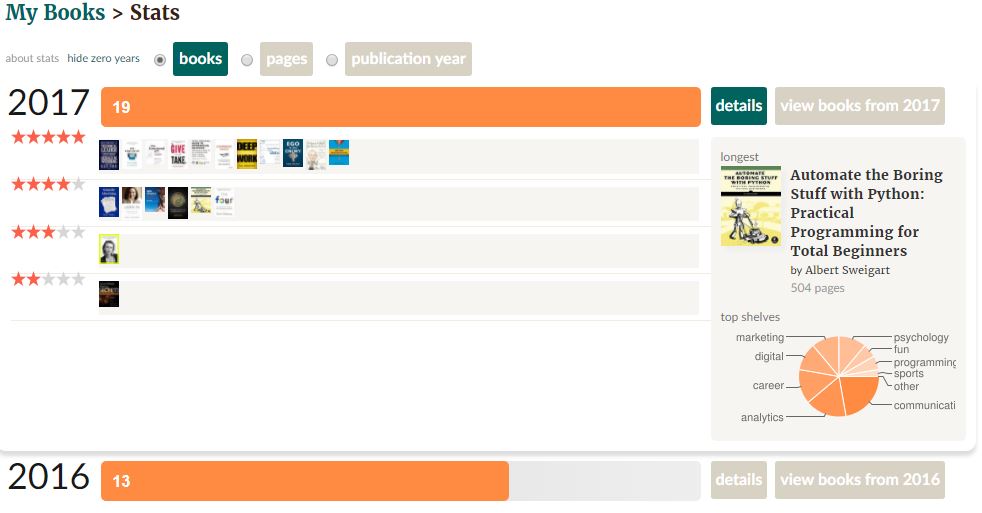 Here are some high-level recaps:
19 books finished, surpassed last year (13) and my goal (12).
Ranked 11 out of these 19 books "5-star" (17 out of 19 are 4-star and above) – "I like what I read" – Majority of the books are relevant to my career or personal interest, and some have made very positive impact on my everyday life
The thickest book is the one which got me started Python.
Different from 2016, reading has become my own way to rest my mental muscle.  To me, it is essentially one-on-one communication with the author at my own pace.  If I only have 10min, I can read a few pages and be happy with one takeaway.  If I get a whole afternoon (only happened when traveling) I can also immerse myself with a few hours enjoying the "long conversation" with the author.
In terms of the devices, I spend over 70% of my reading time using my iPad Air 2, despite owning last year's Kindle Oasis model(20% of the time).  The bigger screen size, ease of typing notes are the two main contributing factors.  My iPhone 7 plus can also get some light reading done (10%) when I am waiting for a haircut.
My recommended books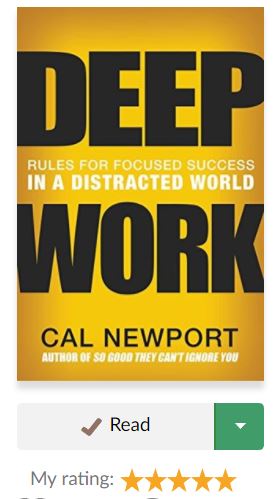 "Deep work" from Cal Newport in the analytics category. 
It is not a technical book to beef up analytics skillsets. However, its core concept works really well for analytics professionals.  Data analysis, similar to the academic research work,  requires blocks of time to find insights and signal from massive data noise.
The author also provided tangible recommendations to train your own "deep work" muscle. I am using it in my daily work life, starting by blocking a few hours every morning to get high value-added tasks done.
My favorite 3 quotes:
"Most people assumed(and still do) that relaxation makes them happy. We want to work less and spend more time in the hammock…but research actually shows that Human beings, it seems, are at their best when immersed deeply in something challenging"

"The key is to maintain both in a hub-and-spoke-style arrangement: Expose yourself to ideas in hubs on a regular basis, but maintain a spoke in which to work deeply on what you encounter"

Why we need to "shut down" at the end of the workday?  – Reason#1 – Downtime aids (truly deep) insights;   Reason #2 –  It helps recharge the energy needed to work deeply;  Reason #3 – The work that evening downtime replaces is usually NOT that important.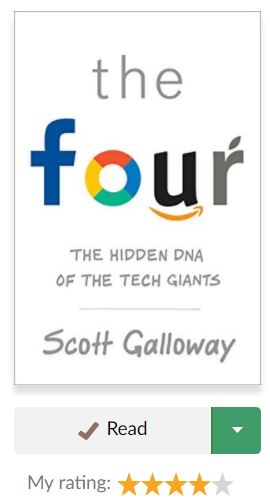 "The Four: the hidden DNA of the tech giants" from Scott Galloway for digital marketing category
I found this author (then this book) from the famous "six pixels of separation" digital marketing podcast hosted by Mitch Joel. It is fun-to-read, blending a few personal stories when the author served as a board member for a major publisher.
The angle of this book set it apart from the others –  Galloway used his own lens to demystify tech giants from business models and its implication to the society.
My Favourite Quotes :
Digital sales are still only 10-12 percent of retail. It's not stores that are dying, but the middle class, and the stores serving them… By contrast, stores in affluents neighborhoods are holding strong.

Facebook suggests the "what", while Google supplies the "how" and Amazon the "when" you will have it.

We tend to believe social media as neutral – they are just serving us stuff and we can choose what to believe or not. But research shows that we click is driven by deeply conscious processes – the need for belonging, approval and safety.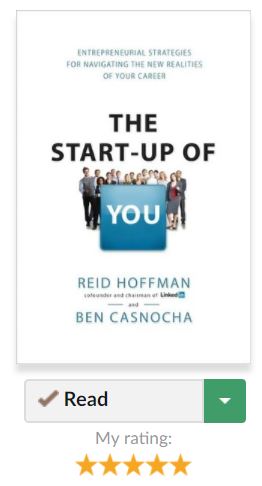 "The start of you" by Reid Hoffman and Ben Casnocha – in career development category.
This book systematically introduced the concept of manage one's career as a company.
After reading this book, I have started to plan and implement the idea of allocating 5% of my income for career development. The logic is simple – if the majority of the companies are allocating a percent of its revenue to R&D expense, I should do the same for myself.
My favourate quotes:
"(Compare to a startup), you (as an employee) are selling your brainpower, your skills and your energy.  How are you first, only , faster, better or cheaper than other people who want to do what you are doing in the world?  –  They key is to find out the local niche in which you can develop a competitive advantage"

"A good career plan accounts for the interplay of the three pieces – your assets(Talent), aspirations(passion) and the market realities(labor demand)."

"The key reason why personal and personal are separate relates to conflict of loyalties – The duties as a professional, and duty as a friends/family members are often conflicting each other.